Hi everyone! I've PICKED A DATE for our first official Mock Newbery 2014 Club meeting!!
DATE: Thursday, June 27th
TIME: Noon - 1:00
PLACE: Outdoor Gazebo behind the Lebanon Public Library
WHAT TO BRING: Books to share, Mock Newbery booklet with reviews to share, BAGGED LUNCH and drink.
Parents - you are completely welcome to stay and chat with us. You may also drop your kids off and pick them up at 1:00.
BAD WEATHER make-up date: Friday, June 28th, same details. I will let you know by e-mail the day before if we postpone it due to bad weather.
Yay! I'm so excited to talk about books with you and hear about your summer so far! Here are some more books I've been hearing about:
For all you Wendy Mass fans! This came out YESTERDAY!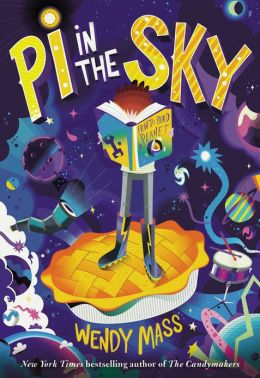 The first 7 chapters are being offered for free on Kindle right now. Also, Mark Turetsky, one of the narrators in one of my all-time favorite audio books, The Strange Case of Origami Yoda, is narrating Pi in the Sky for the audio book (he narrated The Candymakers, too)! Here's is a cool blog post and video by him about it:
Click on Link
Also interesting news for Wendy Mass fans - The Candymakers book is being made into a movie!
I love Jarrett J. Krosoczka (author of the graphic novel series, Lunch Lady) - he's just a great guy (I met him at the Dublin Lit Conference in Feb.) and so creative!
(Companion to When Life Gives You O.J.)
(Companion to Small Acts of Amazing Courage)
Let me know if you can attend on the 27th so I have some idea of how many are coming! Can't wait to see you! :-)